Get to know the platforms' rules: Facebook, LinkedIn, Instagram, YouTube, and other social networks and platforms differ in many aspects – for example, in terms of target groups, functionality, algorithms, or media costs. Find out which channel (probably more of a channel mix) is ideal for achieving the goals you developed in the social media strategy. For example, LinkedIn is good for B2B communication. If you are looking for staff or want to reach the masses in the B2C sector, you cannot avoid Facebook and Instagram. Familiarize yourself with the individual requirements – for example, with hashtags, which users use to search for topics actively. But emojis, tonality, and the correct number of characters can also play a role.
Get creative: Use the full range of possibilities on social media to increase your organic reach. Try different formats; use stories, surveys, reels, competitions, or entire articles (e.g., on LinkedIn) that stimulate discussion. Anyone who tries out new things and surprises them is more likely to be remembered by the community.
Follow the customer journey: Rely on tailor-made content that fits the customer journey phase. You don't know the customers yet? Then you produce content that attracts attention and works without interaction or even prior knowledge on the user's part. Have you perhaps reached potential customers before, and are you already known as a brand? Then rely on content that brings you closer to the purchase phase and ultimately convinces you.
Stay on the ball: The magic word for organic reach is continuity. Regularly post your posts, follow other channels, comment, and moderate.
The customer journey phases at a glance
Image: In the image phase, you enter into real social interaction with your target groups. Your primary goals: establish organic reach and define your digital identity. You can turn people into fans and build a community with relevant content on your social channels.
Consideration: In the consideration phase, potential customers are already interested in your products and services but need one last push to decide in favor of you. Your task: Accompany the journey and convince "over gangs" with relevant content – in-depth magazine articles, infographics, videos, etc.
Conversion: In the sales phase, you help potential customers to get in touch with you quickly and make it easy for interested parties to buy your products or services. For social media, this can mean, for example, in-app shopping on networks like Instagram or lead campaigns on LinkedIn, which either reach their goal directly in the channel or lead to sales landing pages on your website.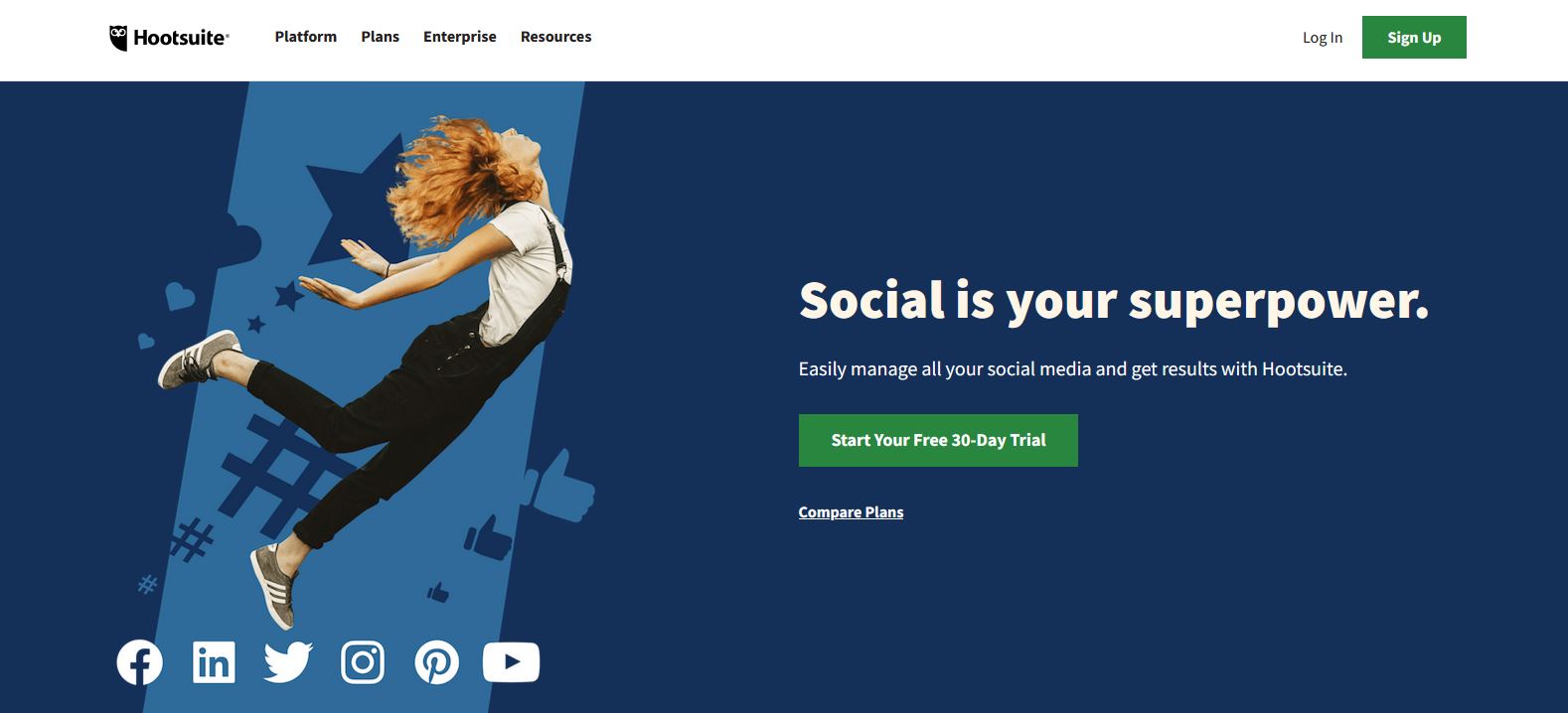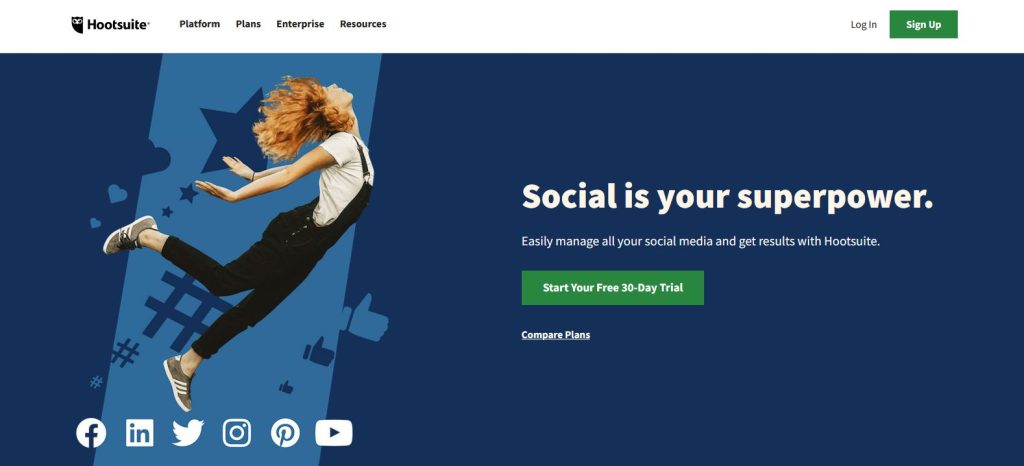 What Is Hootsuite?
In addition to being one of the most popular social media tools, Hootsuite also offers a relatively well-equipped free version. The tool has been around for more than a decade and provides many features for bloggers, small business owners, and marketing teams.
Hootsuite lets you publish posts to Facebook, Twitter, Instagram, LinkedIn, Pinterest, and your YouTube channel.
Pro tip: If you enter your WordPress credentials, you can even publish to your WordPress blog in the accessible version of Hootsuite. This makes Hootsuite a great all-in-one content management platform.
Adding social networks and scheduling publications is easy with Hootsuite. You can also preview the content you want to publish. The user interface may look a bit dated compared to tools like Buffer or Sendible, but when it comes to actual functionality, Hootsuite doesn't need to hide.
Pro tip: While Hootsuite doesn't have a unified inbox for all social networks, you can still easily monitor and respond to activity across your social networks without leaving the platform. This saves a lot of time in social media management.
Another benefit of Hootsuite is that you can get analytics on all of your social media content, not just content published through the platform, unlike some other social media management tools. This makes it easier to assess whether your current strategy is working. However, this feature is only available in the paid plans.
Hootsuite is one of the best free social media tools to manage three social media profiles and schedule 30 posts in advance. You'll need to opt for a monthly fee plan for analytics, unlimited planning, and ten or more social media profiles. A 30-day free trial is available for these paid packages. So you can at least test them in advance.