Develop social media formats from your convincing topics – in terms of content and visuals
Anyone who scrolls through their feed (regardless of Instagram, Facebook, or LinkedIn) usually has little time. Your content must be "snackable," i.e., quickly consumable – and at the same time be memorable. Get people to stop by developing social media formats for your topics that are convincing in terms of content and visuals. Watch out for:
Strong visual language: Pictures and videos convince faster than text.
Intense teasers: Good content needs good teasers. Be sure to write in easy-to-understand language – with solid verbs and concise but varied sentences. Avoid passive constructions, filler words, and technical terms, and address the target group directly – preferably as if you were telling friends about something.
Form follows function: the content determines the format.
Recognition value: Your content must match the brand. Use colors and shapes from your corporate design as recognition value.
Templates: Create templates for specific formats that you can fill in repeatedly. This will save your work in the future, and if things have to be done quickly, you can react directly with a good post.
With a social media editorial plan, you can keep an overview of planned and already played content in the team, facilitate transfers, and identify gaps and need for optimization, even with many channels. Your social media editorial plan should include the following elements:
the topic of the post
Author or person responsible for the post
Date of publication, possibly also the planned time
Channels on which the position should be played
Current status of the post (is it scheduled, in progress, pending approval?)
The format of the post (image and text, video and text, image carousel and text)
Link to the place where the content is located
Ensure that the social media editorial plan remains clear for everyone involved and does not become a stumbling block. Excel documents with countless columns, colors, boldfaces, and abbreviations look colorful and essential – but they can be challenging to read and prone to misunderstandings within the team.
The rule of thumb to start with is Alternate between different formats in the social media editorial plan to offer your followers as much variety as possible. If specific structures (e.g., video content) prove themselves over time, you can shift the format focus and adjust the social media editorial plan. Even better: With the help of A/B tests, you can find out which formats and teasers work particularly well, where clicks are frequent and which goals the attention thus gained achieve. You can also test at what time, on what day, and with what intensity the planning and control of your content work best.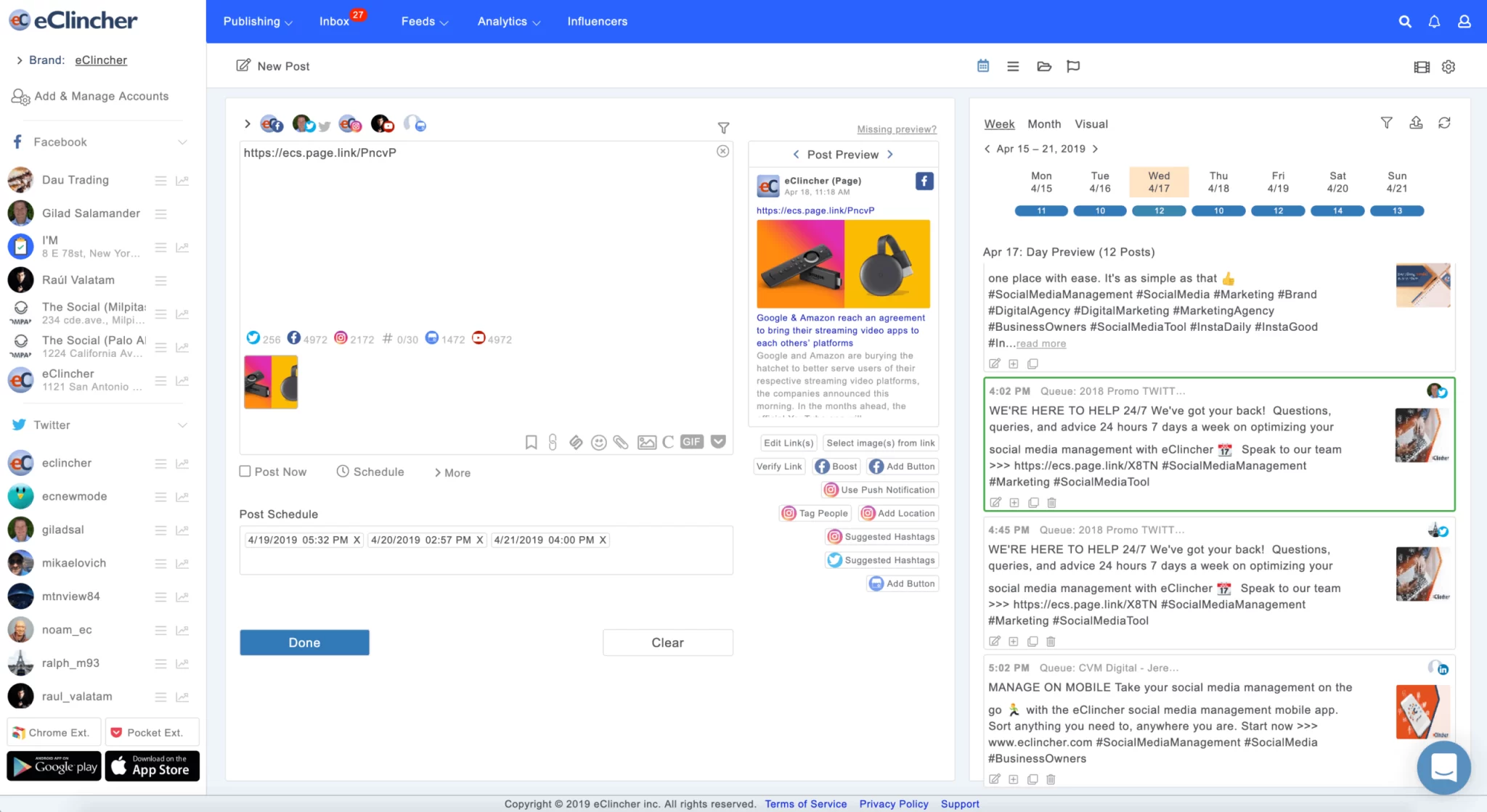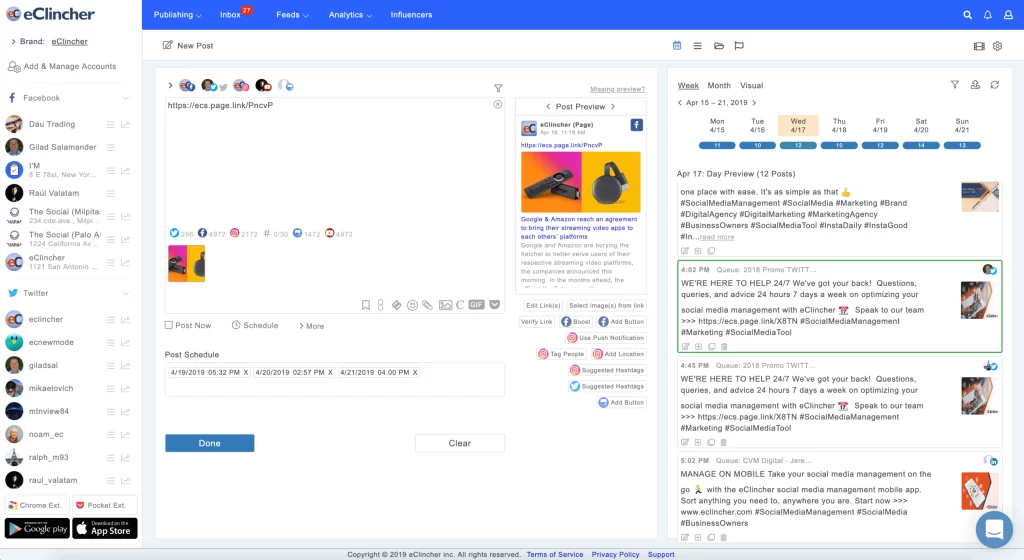 What Is eClincher ?
Considered one of the best social media tools for business, Clincher offers valuable features for agencies. The tool lets you schedule posts for Facebook, Twitter, Instagram, Pinterest, YouTube, and LinkedIn.
You can also use eClincher to publish to Google My Business and Yelp. You can also connect to Google Analytics to get additional information.
You can easily create and plan content and organize your upcoming releases via a calendar with this social media tool.
Pro Tip: Use eClincher's Canva integration to create beautiful images for your publications easily.
eClincher features a unified inbox to view all your messages, conversations, social mentions, and more in one place. You can also reply directly from the platform, making social media engagement even smoother.
Pro tip: Automate your social media posts using AutoPost and Smart Queues to identify and categorize the content. AutoPost with RSS lets you automatically share content from trusted sources. This way, you can increase your activity while saving time.
With eClincher you can analyze the performance of your social media posts in real-time and change your strategy directly if necessary. The tool can also be used to generate and customize reports quickly.