What is Joomla, and what is it for?
Joomla is a dynamic content management system that allows you to create highly relevant sites with first-class interactivity, professional finish, and outstanding efficiency. Its leading management as a CMS is the start-up and management of online content.
We talk about online management because everything in Joomla is done on the Internet. When we access our Joomla site to modify, add or delete content, we do so exclusively through an internet connection. That is to say to an HTTP protocol (Hypertext transfer protocol)
This is all a Joomla user needs to publish information on the web and keep it up to date. Without a doubt, this makes Joomla a powerful tool for disseminating information and communicating academic documents, online marketing, and Internet business.
What websites can be created with Joomla?
Joomla is a CMS that allows you to create websites of all kinds. We will be able to create corporate sites, blogs, community portals, and even Intranets with this system. Intranets, for those of you who don't know them, are internal communication platforms often used by large companies for customer management, communication between employees, internal company announcements, etc. These types of media are usually custom developments.
Who can use Joomla?
Joomla is a very intuitive and easy-to-use CMS. Knowledge of HTML and CSS, primary programming languages, will always be highly valued, but we can also try to use the Joomla platform if we don't have them. Anyone who wants to have a website can use Joomla.
To develop websites with your code, knowledge of web design and programming will be necessary, but no previous knowledge is required to be used from the user version. It is so easy and friendly that anyone can take responsibility and manage their web content without the need for the support of a webmaster.
Most of the more technical aspects of the system are hidden from the standard user. They have been meticulously worked on by Joomla developers, making the process easier for online content administrators and editors.
What technologies does Joomla use?
Joomla is programmed in PHP (Hypertext Pre Processor) and SQL (Structured Query Language). For its correct operation, it uses relational databases, specifically MySQL. Both PHP and MySql are open source or open-source programs: software development models based on open collaboration. It focuses more on the practical benefits (access to source code) than on the ethical or freedom issues that stand out so much in free software. For many, the term "free" refers to acquiring software for free. Still, more than that, freedom refers to modifying the program's source without license restrictions since many software companies lock up their code, hide it, and restrict their rights to themselves.
Based on this same open-source philosophy, we can also say that Joomla will run better in datacenters whose platforms are Linux/Unix and whose HTTP servers are Apache. With this, we will not say that Joomla does not work on Windows platforms with IIS servers (Microsoft's Internet Information Server). Still, it works with all its power and functionality on Unix/Apache platforms.
The operation of Joomla has been carried out mainly thanks to two elements:
PHP File System: They will be in charge of generating the query actions and carrying out the necessary modifications in the databases, converting the data into simple web pages that can be interpreted and served in the main browsers of today.
MySql database: In this database, all the information about the site and most of the system configuration will be stored orderly and in clearly differentiated tables, which are intended for each of them to keep information specific.
The famous CMS Joomla is a web system that allows you to create and manage web pages visually, through blocks, and without programming knowledge.
It is used to publish content on the web, both on private networks and the Internet, in blogs, institutional pages, forums, portals, and educational centers.
It is based on the PHP language and stores all the data in the MySQL database engine.
It allows you to manage all aspects of a web page, from the way it looks (with templates or themes) to how it interacts with the visitor and the things you can offer them (contact forms, images, videos, text, etc.). Data tables, etc.) through components.
It allows you to manage and publish content and classiest them into different categories to find them later easily and quickly. The insertion of texts and articles is the fundamental pillar for this content manager, which stands out for its tremendous ease of use.
We have already compared the most popular CMS in the article WordPress: Advantages and Disadvantages. Today, it is the turn of Joomla. We will do the same; we will analyze the advantages and disadvantages of Joomla.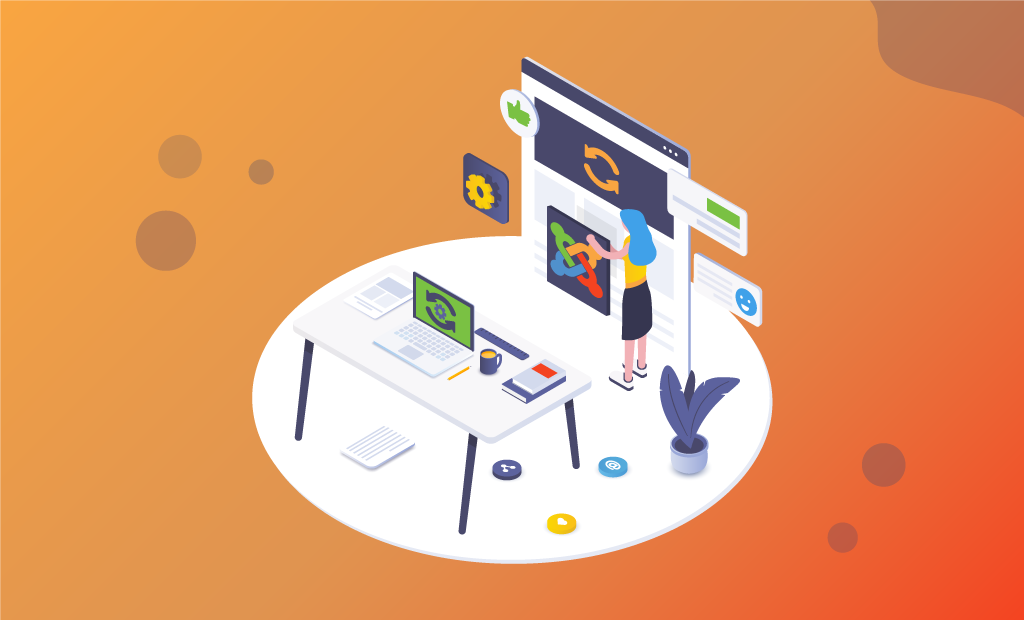 Advantages and Disadvantages of Joomla
What are the benefits and advantages of Joomla? In what things does it stand out compared to other CMS? What things is it inferior or not so good at?
Let's now see the benefits and cons of Joomla, so you can analyze everything well before starting to use it as a content manager.
Advantages
    It is free and open-source software: you can use it as many times as possible and modify its code as needed.
    The way to install Joomla is easy and fast, step by step through a web wizard.
    There are thousands of plugins and components available, 100% free to extend the functionality of your website.
    There are hundreds of templates/themes to install and change the look of your website.
    It can be used to create blogs, personal, institutional, or corporate websites.
    Allows the installation of plugins and commercial templates – naturally paid.
    It is beneficial for setting up e-commerce stores.
    It is constantly updated; it is a solid project with a great future.
    It allows widgets, menus, and content blocks easily and quickly by dragging and dropping.
    It has a powerful administrator panel from which you can manage content, pages, articles, etc.
    There is extensive documentation on Joomla, its extensions, themes, and bug fixes.
    It is supported by a large community that is always willing to help you with any problem.
    Using SEO modules allows you to make your site friendly for Google.
    Novices and experts can use it, even people who don't know programming or web development.
    Its learning curve is relatively easy since the interfaces are super intuitive, careful, and polished to maximize the user experience.
    It allows the registration and administration of users in private areas.
    It can be used ideally to process online payments with credit and debit cards, something necessary in e-commerce and online stores.
    It supports SSL certificates (HTTPS) to keep your Joomla secure; migrating Joomla to HTTPS is easy.
    It works on any web server like Apache, Nginx, LiteSpeed, etc.
    Cache modules and configurations can significantly accelerate its performance.
Disadvantages
    It is not the ideal platform with which to create and maintain our blog since it does not have the essential aspects characteristic of blogs, such as a comment system, tagging system, and tag cloud (it is being implemented in the new version 3.0), a sound system for multimedia (integration with Youtube, own Videos. The indexing system is not as good as WordPress and has some details that reveal that this is not the system's primary purpose.
    The configuration of templates and modules (similar to WordPress Widgets) is not very intuitive.
    It has too many configuration options; for a new user, this could disappoint them, although, in my opinion, if a system has many configuration options, the more we can customize it.