What is Zephyr?
It is for advanced users who need a CMS that is so agile and flexible that it might scare them. And the story does not end here. Technology evolves, and this company's mission is for Zephyr to set the pace.
Transparency, outstanding helpdesk, and direct access are a big part of the commitment to partner agencies. You deserve a front-row seat to the brains that work at Zephyr, and that's what you'll get.
What does CMS stand for?
The acronym CMS stands for a content management system, which translated into Spanish would be a content management system. A CMS is a software that uses databases to manage all the content of a particular website.
What is a CMS for?
CMS works through administration or back-end panels that we reach through the browser and an interface linked to forms that help us create content. Once we have them completed, these contents will appear where we chose at the time of their production and in the same way they were selected on the front-end.
To explain it better, let's give an example:
Let's imagine a digital newspaper website that constantly updates the news. Those writers who create the content are most likely not also HTML savvy. This is where the CMS comes into operation that, thanks to its administration, will help developers to create the content to be published with the sole need and concern of sticking exclusively to writing.
Examples:
Blog
corporate website
e-commerce platform
Forum
Newspaper magazine
online academy
What are the features, advantages, and disadvantages of using a CMS?
In this section, we will differentiate three groups: Characteristics, advantages, and disadvantages.
Characteristics:
Create and publish pages.
Inventory control and sales system in the case of e-commerce.
Add plugins and extensions.
Editing of codes and texts.
Image, video, and media libraries.
Advantages:
    Easy to use: Content is king and must constantly be evolving and updating, adding, for example, new texts, corrections, images, and videos, among other things. Its most significant advantage, as its name suggests, is managing the content of a particular website.
    Easy creation and maintenance: This may be its most significant advantage, the ease of developing and having a completely renewed and updated page. In addition, we access it through the browser, so we do not need to have anything installed to take up space on our computer.
    Organic search optimization: Anyone in charge of a web page must know the enormous importance of SEO. Thanks to a CMS, this can be easily achieved with just a little daily time well spent so that our pages appear first in search engines.
    Resources: Many CMS have necessary added resources to manage our web pages as well as possible; if we do not find those things that we consider essential in our CMS, what we need likely is to change the content manager.
    Types and sizes of jobs: It does not matter the company, the size, or even the volume of sales, whether it is a blog or e-commerce. This is one of the most significant advantages of a CMS that no matter what project we are going to develop, all we need is to configure the CMS for our business.
Zephyr is a cloud-hosted CMS marketed exclusively for agencies building client websites. Zephyr is only licensed to agencies, so individuals cannot use Zephyr unless they are willing to work with an agency partner.
Because it's hosted in the clouds, Zephyr's main selling point for agencies is that it can offer a maintenance-free alternative to other agency solutions like WordPress or Drupal.
Who uses Zephyr?
Cloud-based, HIPAA-compliant content management system helps users create custom websites, manage content, and more with integrations with HubSpot CRM and Raiser Edge NXT.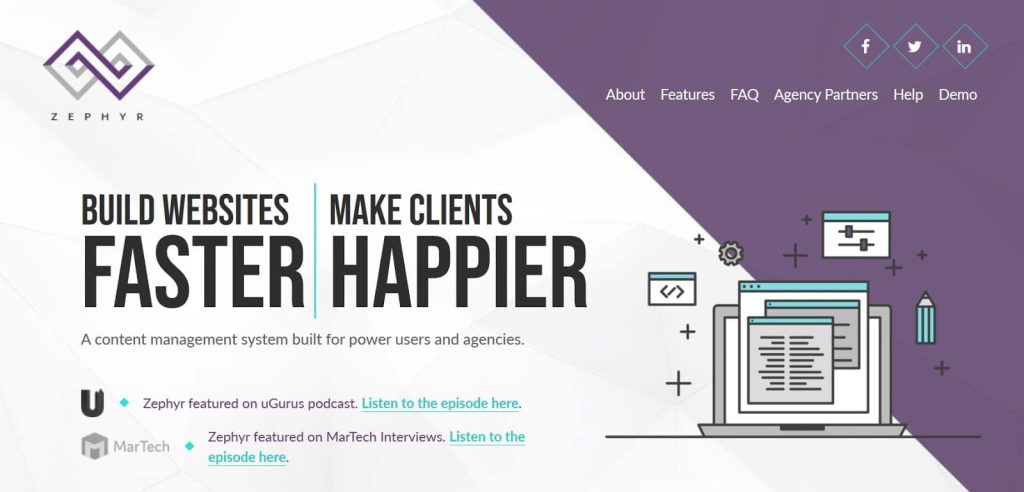 Zephyr Features
Full-text search
Search/Filter
Access controls or permissions
text editing
real-time editing
electronic forms
SEO management
media library
customizable models
Content publishing options
Points in favor:
Zephyr is incredibly fast on both the front and the backend. I can quickly move through the platform and make edits without waiting on load times from an admin perspective. On the front end, the sites always load fast. I also appreciate that the Zephyr team listens to our feedback. We can submit feature requests and have direct conversations with the leadership team that allows for meaningful discussion. It makes me feel like they care about our success. Additional features that help me produce results: – Included SSL – The ability to create different page layouts on the fly without involving a developer – Multiple design themes for my clients to choose from
Security seems decent–the TFA isn't much of a bother, and I don't mind using an Authentication app. However, it does pose a bit of a quandary if you don't provide work phones because employees will have to use personal phones to access their workflow duties. I believe there was a different option for the TWA (maybe it was email-based?) to get around it. 2. I do like being able to schedule pages' go-live times & dates. That was a nice perk, even if it doesn't do much for us regularly. 3. Social Media presentation and tracking options (even though we don't use them). 4. Crafting a decent looking webpage is more accessible in this software than in our older software
Overall, the ease of use compared to free backend services is a step-by-step chore.
Linking images. It is placing images and organizing your assets. It is all a chore.
Even janky free services can change a format without losing all your data/work and starting over—for example, one column vs. three columns. Begin with one column, then decide you would like to center with a three-column change the format poof, all is gone, and you have to start over.
When uploading an image to replace another embodiment, the image you are returning doesn't get overwritten. Even though it is named the same. So inadvertently, the wrong image gets used, and you have to toggle back and forth to make sure not to delete the image needed. Found it best to delete all and then upload again. Overall…I have it down and have learned my way around the quirks, but it doesn't need to be this challenging…in the end. It works.
cons
There's no way to drag and drop assets into order–so if you have an archive of documents on a page, there's no way to order them. Our 3rd party coded us a specialty numbering system as a workaround, but it's clunky and a very sub-par solution. Our last CMS had a drag and drop function that worked.
2. There's no way to see who is receiving forms–so if you have a general contact form that more than one person is monitoring, there's no way for other employees to see who else is watching the cast. Even WORSE, there is no way to mark whether an employee has already resolved/responded to the inquiry, which has the immediate potential to cause multiple, conflicting replies to a user. Everything about how the forms work is horrifying and a huge problem: you can use some command like "Ctrl+F" to search (because there is no native search, WTH), but if you haven't labeled your asset,,, well, it won't help.