It is an Open Source content management platform favored by developers worldwide and runs on Microsoft infrastructure. It is a complex system to configure; it usually requires a web developer to implement, but it is fully extensible, and the growing capabilities are practically unlimited.
Advantages of using Umbraco
Once we have defined the WordPress and Umbraco platforms and their advantages and disadvantages, we must return to the initial question: Do you know which platform is most appropriate for achieving your goals? Would you know how to answer it after knowing all the pros and cons of each platform?
Both platforms are compelling and used by big brands all over the world. If you need a professional website that may require a lot of growth, then Umbraco is the best solution (it better supports more complex data structures). On the other hand, if you need a web page in which the content must be updated daily, such as a blog, then perhaps it is advisable to use WordPress.
In the end, the decision we make must be based on what the client expects.
Since 1999, Dane Niels Hartving, together with a team of developers and a large community of users, has worked on the creation and optimization of Umbraco. This open-source CMS based on the MIT-licensed .Net platform today has more than 85,000 websites operating in more than 165 countries and has become one of the most flexible and adaptable platforms.
Umbraco is suitable for small blogs, internal corporate networks (intranet), or projects with massive traffic alike, allowing the management of all types of web pages from a single platform. Its scalability is mainly because its back office is based on the Angular JS framework and allows standard and prevalent technologies such as HTML, CSS, vc.net, IronPython, jQuery, Razor, C#, and XSLT, among others. Here are some of the essential features of this content manager and its advantages and disadvantages.
Installation and basic requirements
Umbraco's back office
The first step to start using Umbraco CMS is to download it. Its source code is available free of charge on its official website as an open-source program. The installation options depend on the individual needs of each project and are mainly: manual installation, installation from WebMatrix, NuGet Installation, and installation for Mac computers. The main system requirements are:
ISS/Windows or GNU/Linux server that supports ASP.Net Any web browser such as Internet Explorer, Mozilla Firefox, or Google Chrome. Browsers like lE10+ can present problems if the latest version is not used. As it is a CMS for the .Net platform, you will need at least Windows 7 and Webmatrix. Any database such as MySQL, SQL Server or VistaDB ASP.NET 4.5 Full Trust Have the necessary permissions to create, read, write or administer the system or network.
Once the download of all the new components is finished, use Umbraco, you must extract the files, create the respective database and their respective permissions. Because Umbraco does not require any knowledge of C# programming, when you start working with this CMS on your localhost, you will have the option of opening the so-called "starter website" (a learning tool to familiarize yourself), or you can start directly importing the necessary files to create your online project.
To facilitate its administration and create web applications, this content manager structures websites in pages known as nodes, whose structure forms a pattern that is visually similar to the branches of a tree. This is known as the "content tree." Its structure is hierarchical, and it is recommended that it does not exceed three levels, mainly to facilitate navigation by visitors and management by administrators. In addition, all previously published pages are stored in a kind of "history," thus allowing users to work on multiple versions of the same page without losing changes made.
By default, Umbraco offers its community the possibility of using eight sections or structured applications that make it easy to carry out specific tasks depending on the pages where you want to work. We show them below:
Contents
Umbraco's intuitive interface allows users without extensive programming knowledge to work with a rich text editor that will enable them to create, save, publish or edit content. The editor features include basic options like links, images, tables, etc. Those who know HTML and want to implement it in their texts will also be able to do so.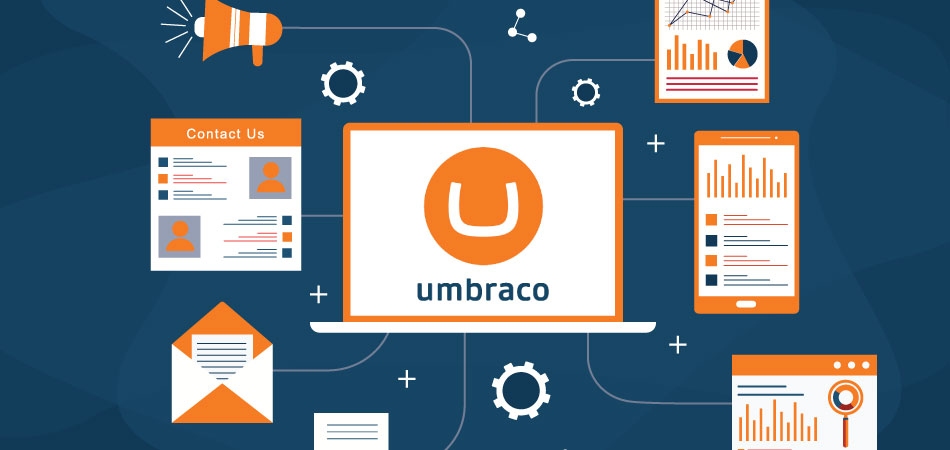 Media
This section consists of a visual media library for the project. It is possible to create folders and upload multimedia files (images and pdf) by default. You can customize the existing media types or define your own in the "Settings" section.
Setting
In the "Settings" section, you can define document types, templates (cshtml files), style sheets (CSS files), partial views (cshtml files), scripts (Java files), and media types. In addition, it is not only a multilingual CMS, but it also offers the possibility of creating and managing in Spanish and other languages ​​with multiple multilingual back-office tools, such as the dictionary.
developers
The "Developers" section is responsible for bringing together in one place the work with data types, macros, partial views, packs, relations, and XSLT files. In other words, through it, the most experienced users will be able to take full advantage of the scalability and extension functions.
Members and Users
As it is a CMS designed for large-scale projects, one of the primary purposes of Umbraco is the proper functioning of the web even when a large number of people simultaneously update its contents. In the "Members" section, you will have an organized view of the member management functions, and the "Users" section will facilitate the creation, administration, and customization of back-office users.
Open Source
Improvements are created every day by a dedicated and collaborative community of developers. In addition to having no cost peruse, we have all the freedom to modify it for any use.
Official Support
It offers official support from its headquarters in Denmark or through its worldwide network of Gold Partners.
road map
It allows for starting a project quickly. It is perfect for phase 1 of the project, but it is essential to have visibility on the future path of the CMS to ensure that we are aligned in the following phases of development.
Very flexible
It can handle simple websites or large projects with thousands of pages and large amounts of traffic. It can be customized to meet the needs that we want.
Easy to use
It has been designed to optimize productivity, and it is a fast and pleasant system.
Scalable
It can be used for small and simple web pages to large, more complex, and professional ones.
Efficient
It has different levels and caching strategies that, together with its fast indexing system, improve the web page's performance.
Powerful speed
New versions of Umbraco have improved top loading speed.
Disadvantages of using Umbraco
Although it is a great platform, it also has its drawbacks.
It would be best if you had expert developers
The platform has been created and designed more for developers than for users. The usability is debatable, but it would still be better than WordPress.
There are no plugins
Code is required for design changes and new modifications.