Oracle's flagship enterprise content management application, Oracle WebCenter Content, is a single, scalable content management platform that centralizes structured and unstructured content, enabling businesses to manage the entire content lifecycle. All it's content.
As part of the Oracle WebCenter portfolio of user engagement software and an Oracle Fusion Middleware component, Oracle WebCenter Content helps companies simplify their enterprise content management (ECM) infrastructure. By using a single, scalable content management platform, businesses can more easily access content that would otherwise remain in silos controlled by various business applications. By managing all content on a single platform, companies save time and money by consolidating efforts and gaining productivity by optimizing the use of the information they collect.
Oracle WebCenter Content, a single, unified content management platform, works with the following related packages:
Oracle WebCenter Portal software for creating and managing intranets, extranets, composite applications, and self-service portals. Oracle WebCenter Sites software creates and manages contextually relevant social and interactive online experiences across multiple channels. Oracle WebCenter Enterprise Capture and Imaging software capture and manages document images within transactional business processes. Oracle Document Cloud Service to provide cloud-based file sharing and collaboration.
Key features of Oracle WebCenter Content include:
Administrators can set up access control lists to configure who has access to what content. Documents are saved in native format and can be automatically converted to other forms. Companies can consolidate their unstructured content using a unified set of ECM tools. Companies can capture images and use Oracle's optical character recognition (OCR) tools to select text to classify the document or convert the document to text.
Video transcoding tools allow companies to convert videos to a variety of formats. If an organization needs a unique set of metadata fields for retention categories or record folders, the software can be customized to include the organization's specific areas. Users can check documents in or out, manage Microsoft Office or a web browser, and convert paper content to electronic format. Oracle document management features are compliant with FDA 21 CFR Part 11. A suite of mobile apps provides access to content on smartphones and tablets.
Prepackaged adapters allow companies to more easily integrate ECM software with content-enabled applications such as ERP and customer relationship management (CRM). Companies can track and preserve content according to a retention schedule. Oracle records management features are compliant with DoD 5015.2-STD v3. Tools are provided to make different versions of a document available to other devices, such as tablets or smartphones.
As users make changes to content, different versions of the content are automatically stored, and users can select which version of a range they want to work with. Users can directly annotate documents they view using a set of markup tools. Users can convert business documents to private or public web pages, and when they update a business document, the web page updates automatically. Users can create and manage workflows to streamline business-to-business processes.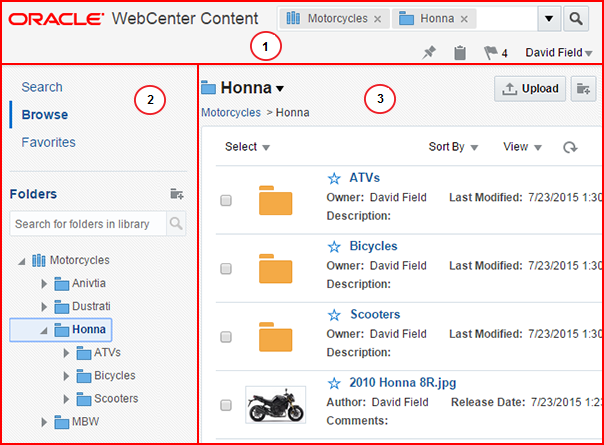 From the fusion of both tools, very interesting conjunction is produced, on which we are going to expose some of the main attractions and advantages.
Documentary processes
Nowadays, in almost any organization or company, processes are carried out, either to launch a new product, comply with regulations, or register a purchase-sale and its corresponding electronic invoice. Generally, these processes are not automated and often not digitized either (if you still doubted it, NO, putting data in Excel is not automating). Frequently, these processes require or even rely on the creation, approval, and evaluation of documents. And these tools allow the development of the concept of Documentary Processes.
The union of WCC and BPM offers the possibility to automate, direct, orchestrate, control, digitize, and optimize processes; It also allows you to have all the information accessible from the same place. With this, an improvement in the business is achieved, with the consequent cost savings and increased profits.
Direct integration
Being Oracle products, the integration is direct. So much so that from BPM, a module is already incorporated in which, without the need for additional configuration, you can work and interact with the WCC document layer through the services provided by this tool: the creation of a document, update, or versioning of the same, erased, and a long etcetera. With this, many integration problems between products, typical of projects, are avoided, which is usually an issue that causes a loss of money and time.
Automation and Digitization
Another of the main advantages is the automation and digitization of tasks usually carried out manually. Using this product integration, who did what, to what extent, and when they did it will be recorded.
This, which seems obvious, avoids many typical problems such as "nothing has come to me," "you have not sent it to me," or "I never approved that document." At the process level, there is a record of which user has performed what action, at what point in what process, and when. In turn, in parallel, it is recorded which user had created/modified a file when it was done at the document level. With this process, it is related and what other characteristics it has (called metadata).