I do not introduce WordPress because I suppose that all those who read this knowledge know what platform it is and what it is for.
The guys from Ghost define it as "just a blogging platform," and there is no better way to determine it. It started as a project on the crowdfunding platform Kickstarter. He quickly raised the US $200,000 they needed from, among others, Automattic, the company that owns WordPress founded by John O'Nolan.
It does not have plugins or configurations of any kind like WordPress. It has a dashboard with the basics: logo, author profile, and little else, and it immediately takes you to the publication screen.
It also doesn't use HTML. Instead, it relies on Markdown. Let's take a closer look at the analysis.
WordPress vs. Ghost, which is the best?
Ghost dashboard is more uncomplicated than WordPress
We start with what we all see when entering the administration of our blogs. We all know the WordPress dashboard perfectly: we see a summary when entering and all the options in the sidebar and many opportunities to configure; not very friendly: comment system, templates, widgets, articles, pages, menus, general settings, etc., etc.
On the other hand, entering Ghost takes you directly to the "new article" page. It has the lowest settings in a menu in the sidebar: new articles, published articles, and general settings.
The simplicity of Ghost makes even the founder of WordPress fall in love, and it is the best summary.
WordPress is easier to install…and cheaper.
This is perhaps Ghost's biggest weakness. To have a blog with WordPress, look for shared hosting from the preferred company, which can be very cheap, 2 – 3 € per month; on this page, you will find an in-depth analysis of all those.
Next, you download a copy of WordPress, install it, and you're good to go. Or, more easily, some companies use automatic installers, and with a few clicks, you have WordPress installed and ready to configure, for example the one I just recommended in the previous link, even if you request it during the contract, they install your WordPress for you.
Having a blog with Ghost is a bit much more complicated. We begin to see why.
To install Ghost, you will need more work and money. Ghost offers you the option with your domain and hosting, and the system installed costs up to $24 per month. If you want to go to a version hosted on your hosting, it is more complicated.
It would help if you had the hosting you choose to support and had the Node.js system installed, a different engine than the one used by WordPress, which is PHP. The problem is that few, really few hostings have this installed.
Most hostings offer it on their dedicated servers, which can cost at least $40 a month. Not only that, it requires a complex installation process that requires some technical knowledge.
Here WordPress wins by a landslide.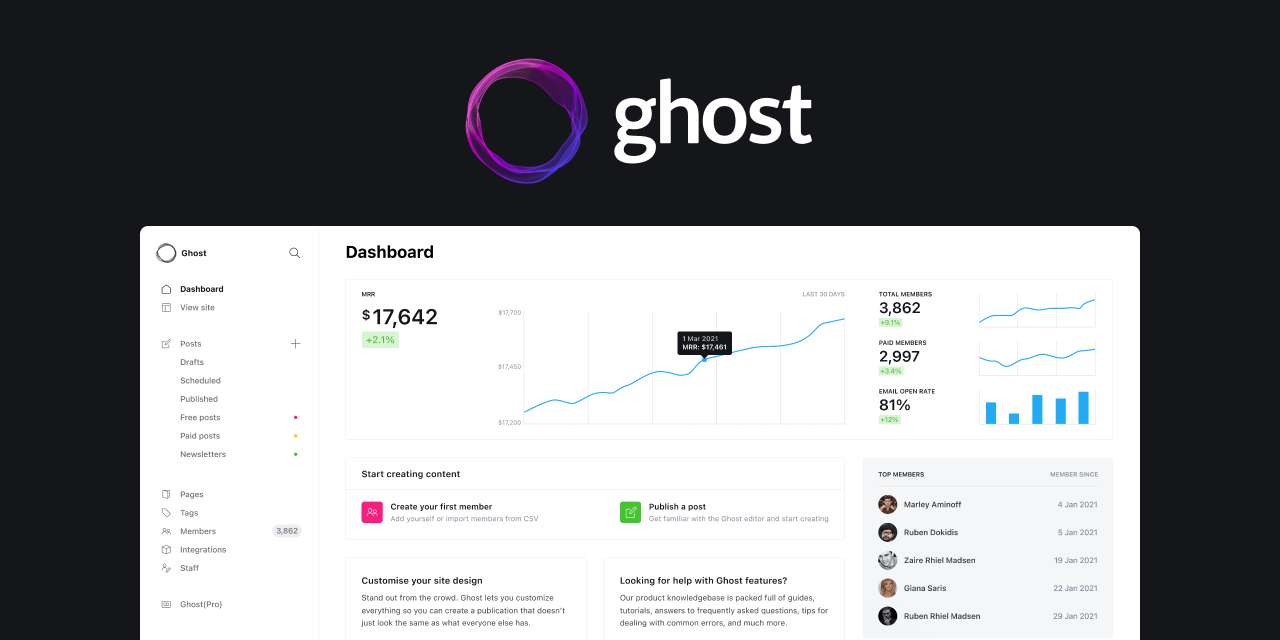 Ghost uses Markdown, simplifying the writing
WordPress relies on HTML when writing articles, while Ghost goes for simplicity and uses Markdown. Its writing system is straightforward: on two screens; on the left, you register with the code, and on the right, you see the result as it will be seen once published.
On the other hand, WordPress does not have a live preview system based on HTML, and you must save changes to see the result. Ghost will make you fall in love if you like Markdown and just writing.
On the other hand, WordPress has an advanced editing system, such as centering titles, justifying, and making it easy to insert images into the article.
At this point, we give the tie.
ghost vs. wordpress
Theme management
WordPress has many designs or themes; its variety is exceptionally huge. Many stores and companies develop many complicated themes.
Many have many options and become their content system within WordPress.
Although Ghost has a disadvantage, more or less or like eight years of existence, there are already many excellent themes superior to WordPress themes.
The repository of free themes in Ghost encompasses 150+ articles, and the complexity of Ghost themes is already growing.
If they mention the word blog, we may immediately think of WordPress, the most popular solution today. However, there are several WordPress-optional blog platforms, each with its benefits and drawbacks.
In this article, we will detail some of the main features of Ghost CMS, a simple platform for blogs:
Ghost CMS: The blogging platform
Ghost has been designed with blogging in mind. Many platforms such as WordPress have become complex content managers where you can create various websites. On the other hand, Spirit has been designed keeping in mind those who only want to be blog administrators and want to publish. Therefore, a relatively simple control panel is maintained, with only one necessary to be able to manage a blog.
Editing in Ghost
Ghost CMS allows you to edit in HTML language and see the changes instantly since it has a double panel; the screen is divided in two when you enter the editing mode. A simple and effective solution.
extensions
Like WordPress, Ghost also has various extensions that you can install to increase the functionality of this platform. This is a point in favor of those who want to carry out more specific actions on this platform.
Disadvantages
A possible disadvantage of Ghost could be its installation, which is slightly more complicated than WordPress. However, the configuration can be done automatically using installers offered by third-party companies.
However, if you are looking for a simple blog-centric platform, Ghost could be the right choice.