Platforms like WordPress or Joomla may be more familiar to you or, at least, you have heard more about them, but the truth is that Drupal is a very feasible alternative that you should know to take into account.
Find out what Drupal is and why this content management platform can help you improve your business's online processes. You will have to evaluate its pros and cons and know its main features and functionalities, but indeed at the end of the article, you will be able to make a better decision.
Why is Drupal interesting?
The world of programming and web design presents us with various possibilities, as many as we have tastes and needs. But to give you an idea, whether you are going to open a web page or need a blog to generate content, you can choose between a site created entirely from code (based on pure programming), choose a CMS, or a web page creation system.
Choosing between a CMS (Content Management System or content management system) or a Website Builders (web page creators) is a dilemma many consider. The main difference is that the CMS will give us much more customization capacity, although it needs more maintenance.
So save yourself time and resources dedicated to programming your website from scratch and forget about the disadvantages of website builders. CMS is the most widely used tool today to create web pages or blogs, with easy-to-customize designs, robust systems, and everything you need to optimize the shopping experience.
There are many CMS on the market, some of the best known are WordPress, Joomla, and Drupal, and in this article, we will focus on the latter. Later we will explain why it can be suitable for your business website, but first, we will define what exactly Drupal is. Let us begin!
What is Drupal?
Drupal is a free, modular, multipurpose, and highly configurable CMS or content management system that allows you to publish articles, images, and files and also offers the possibility of other added services. It includes creating and administering forums, polls, voting, blogs, user administration, permissions, and other aspects that we will soon see.
It is a very flexible CMS designed for developers and users with advanced technical knowledge. Drupal is an evolution of a PHP framework, to which an administration system is added to turn it into a CMS.
Although it is a more niche CMS with a smaller community than WordPress or other technologies, it has big fans (usually very advanced and knowledgeable users). In addition, it remains one of the most popular in open source.
It allows you to create complex web projects with particular functionalities and receive large amounts of traffic or process data.
Who is Drupal intended for?
Drupal is very focused on advanced users and programmers.
Large companies and government agencies often use it to want compelling technology and can afford a team of developers dedicated to this technology.
Drupal is ideal for projects and sites that require scalability and security. For example, it is advisable for large companies and businesses' websites. Of course, before launching to create a website, we must assume that there is a steep learning curve and that experience in web development or good technical support is needed to help us solve advanced technical issues.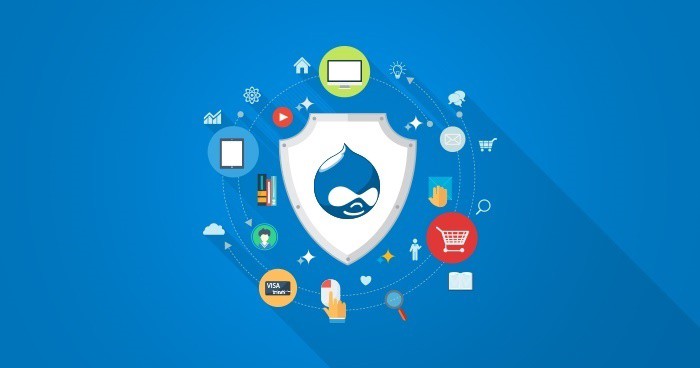 Main features of Drupal
Now that you know what Drupal is all about, we want to highlight its main characteristics, which you should assess when choosing a CMS for your website.
Ease of use
To opt for a CMS, you have to evaluate its difficulty level. Although there are some aspects for which it is aimed at more advanced programmers or technical profiles, you can also start by yourself and delve into its more generic functionalities. Drupal has a long learning curve, but it is characterized by ease of use when creating, editing, and publishing content once you overcome it. So the entire marketing team can take on these tasks.
drupal, what is it
Potential and functionalities
A CMS is not simply dedicated to publishing articles since it also allows the design and development of web pages. While it's normal for the marketing team to focus on blog content, it's also helpful if you can easily create a pricing or service page with all that that entails.
With Drupal, we will access:
The content taxonomy.
The tags.
The organization by categories.
Personalization.
As we discussed at the beginning of this article, many companies choose n Drupal because of its customization capabilities. So, when it comes to creating advanced websites, with this CMS, you have many options: extensions, plugins, source code editing, etc.
Security
Drupal is also a tool that allows you to maintain security on the web against visitors and possible cyber threats. Backups, software updates, etc. If you do not have the technical knowledge to do so, it is better to have a platform responsible for your site's security.
Price
This is another essential question to assess: is Drupal free or paid? As with all kinds of digital tools, we will have free options and paid versions. As expected, the more we produce, the more benefits it will offer us in terms of features, ease of use, and power.
It is recommended that you choose the lowest price and go up as the business grows and, therefore, we have more extraordinary economic performance. But this is something that you should study depending on the characteristics of the company and the requirements of the online project. Keep in mind that free software that is complicated to use will bring you more harm than good.
Disadvantages Of Drupal
It is not easy to start with Drupal; flexibility also implies complexity; being so flexible, it overwhelms at first. It has its tools, and for what you develop to be integrated, you have to use what it provides you, not grow as you want, and you are forced to follow its own rules. If you develop as you want and don't follow the Drupal rules initially, you will surely do it faster since you won't have to stop learning. Still, you will undoubtedly run into problems in the future, and the development will become much slower. If you come from another tool like WordPress and have to develop in Drupal, it will surely be not easy since you have to learn a lot from scratch. The file management (images, files, videos, YouTube…) is not as good as in WordPress (in WordPress, it is terrific), they are working on improving it and have made a lot of progress, but they still have it.