Adobe Experience Manager (AEM) works with today's customers, who are more empowered, demanding, and intelligent than in history. If you want to engage them and retain revenue, your organization must incorporate relevant content that maximizes the engagement opportunities you receive each day.
AEM provides a comprehensive content management solution to help you build websites and their accompanying applications. That includes paperless forms, online communities, and mobile apps. This combination makes it easy for marketers to manage their content or organize their assets to be delivered to the right person at best possible time.
All the essential strategic components you must-have for marketing success, including social media, print, email, web, and mobile, are accessible because they are hosted on a single platform. That means it's faster and easier to give your customers what they want using the built-in features and friendly UX available with the product.
Whether you're a technical marketer or just looking to improve your digital footprint, the Adobe Experience Manager pros and cons you'll want to review today.
Adobe Experience Manager benefits
Adobe Experience Manager can handle a large amount of content.
Suppose you have a significant amount of content that you need to manage daily. In that case, Adobe Experience Manager gives you a platform that can make this a possibility with less overhead once you get to grips with the system. The CMS gives you the option to create custom components and templates, so it's always easy to make. Authors can sometimes struggle with the system, but the interface offers a user-friendly UX once you spend a few weeks learning all the options. It's a well-managed structure that can help you take your marketing efforts to the next level.
You have access to Creative Cloud Integration.
When you start using Adobe Experience Manager, you'll be able to take advantage of your Creative Cloud integration, connecting your business's DAM and the marketing side. This benefit helps you streamline your workflows, allowing you to deliver high-quality content that meets or exceeds the brand standards available in your business. That includes using tags and metadata to manage how you can find specific media items in the future.
You can also integrate Adobe Experience Manager with Salesforce, Microsoft Dynamics, and Adobe Campaign to effectively manage your content in other ways. You get the API that allows you to create additional extensions if you want to, though you'll need to know how to do this to take advantage of this benefit.
AEM incorporates an intelligent search approach.
Adobe Experience Manager uses an intelligent search approach to help you find the information you need at any given time. This advantage even allows you to customize how the software can filter the information in its database to find suitable media files for any situation. The tags and metadata attached to the uploaded files help make this work more straightforward, and an indexing feature is also provided, making all your future searches much faster.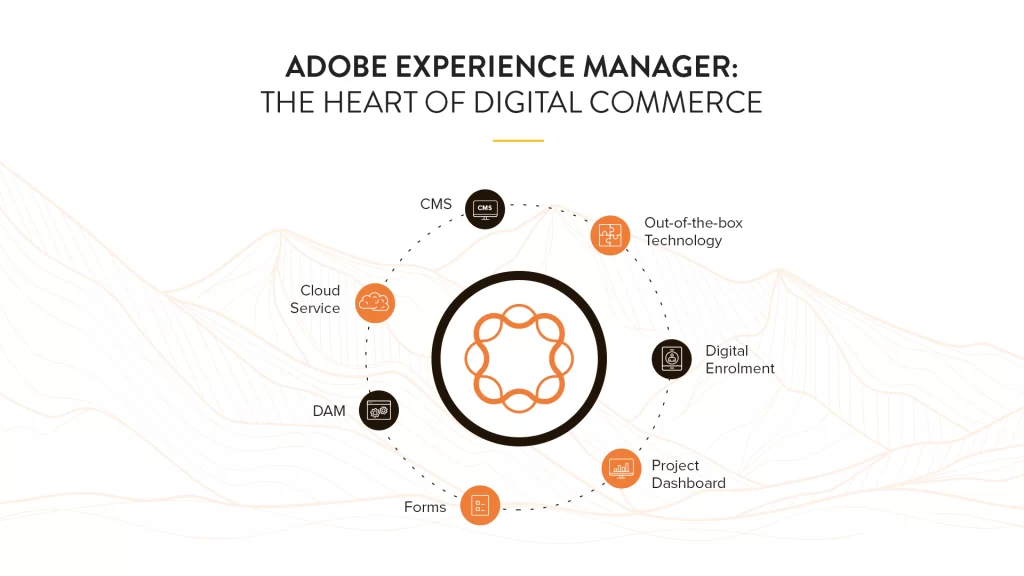 You will have a task management solution that you can use.
Adobe Experience Manager provides each user with their workspace for uploaded projects. This advantage allows each team to have fewer cluttered dashboards so that you can see the possible productivity gains. This advantage also means that you can avoid the risk of equipment colliding with each other at the interface. Everyone knows what their tasks are in the different workgroups, reinforcing the organizational structure because each member is assigned a specific role.
Each worker can also use the feedback and annotation features to provide feedback within the system. When your assets receive a reaction, such as an update request, an instant alert is sent to them to give a more controlled workflow.
You can use AEM for your video content.
Some content management systems only allow you to manage text-based information. If you can upload files, you need to download them to your local system to see what the data contains. AEM provides a different user experience to consider. Brands can use Adobe Experience Manager to showcase their products and services using interactive videos that can be displayed on multiple screens. This benefit allows your team to leverage the customer experience to your advantage because it makes it easy for everyone to stay on the same page.
You can also use Adobe Experience Manager as a platform to create media tailored to your customers' exact needs. This process makes it much easier to accurately communicate your value proposition to each person, eliminating the threat of confusion during the sales process.
Adobe has convinced us: there is no alternative !
Adobe's biggest trick is convincing the market that the way to keep your job safe is to buy its products. However, AEM was designed before the era of Content Distribution 2.0, during a time when the single site, single language, single-channel prevailed. While this approach worked for over a decade, it is now archaic. Many providers have turned their products into Frankensteins to claim modernity, but this is why those high consulting fees. It takes significant effort to put a square peg into a round hole or, in consultant parlance, devise a solution to overcome the differential between the current state (square) and the future state (round). Somebody get them an expert on the subject, quick!
These large providers have built enough brand credibility for companies to continue to choose them because they are the "safe" option, even if they cost more, take longer, and provide an often confusing and outdated UI. Once implemented, navigating the maze of different programs, various logins, and capabilities makes publishing more, not less, complicated.
Inaction is the most considerable risk.
As a result, many companies keep their existing CMS, even when it becomes abundantly clear that it is insufficient and even detrimental to their business. But the wait has led (and will continue to lead) to frustration for your content creators, IT team, and readers.
First, your content creators say that the CMS is difficult to use, and they find it nearly impossible to post to multiple channels and audiences. Then your IT team is besieged with requests that prevent them from addressing long-term strategic issues. And lastly, your readers have limited content in their native language, can't access content on the latest devices, and get 404 error notifications when they want to read breaking news.
While your content is queuing to be published, timely posts from your competitors are being distributed through the newest channels, and your readers are leaving your website. Growing and retaining users becomes more complex, requiring you to shift spending toward search engine marketing instead of content creation. As a result, some of your best employees in the content area are demotivated.